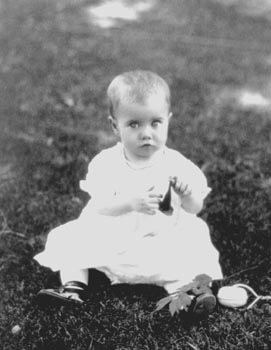 Early Life:
Ginger Rogers was born as Virginia Katherine Mcmath on July 16, 1911 in Independence, Missouri. Shortly after, Ginger's father kidnapped her twice making her mother divorce him. Later on, Lela moved nearby Kansas City where Ginger's grandparents lived. There, Ginger stayed with them for two years while her mom wrote scripts for Hollywood.
When Ginger Rogers was nine years old, Lela married John Logan Rogers, who became her dad, but not legally. From there, they lived in Fort Worth, Texas where her mother became a theater critic for the local newspaper. Ginger was thinking about becoming a school teacher, but her mother had her do plays which kept her interested in the theatrical world.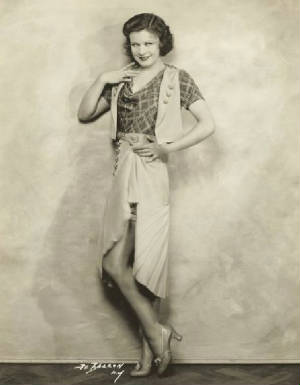 The Beginning:
At the age of fourteen, Ginger entered the Charleston dance contest and won it. Winning this made her get into Vaudeville plays and becoming popular in them. Between 1929-1930, she did two major plays as second lead called "Top Speed" and "Girl Crazy".
After doing these two, she started to do a few film shorts and began landing film roles at Paramount's East Coast studios in Astoria. In the year 1931, Ginger moved to Hollywood where then she did her first main movie called "Young Man of Manhattan" in which one of her lines, "Cigarette me, big boy!", became a popular catchphrase nationwide.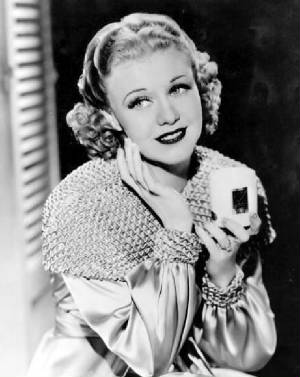 Stardom:
After making quite a few films, Ginger starred in depression musicals for Warner Brothers called "42nd Street" and "Gold Diggers of 1933" which in that film she sang "We're in the Money" and a pig Latin verse to it. She then joined RKO and did "Professional Sweetheart", but the next film of her career would start her stardom.
In 1933, RKO assigned her as one of the supporting roles along with Fred Astaire in Flying Down to Rio. Even though the main characters were Dolores Del Rio and Gene Raymond, Fred and Ginger stole the spotlight of the film doing The Carioca. After this film, Fred and Ginger would be stars in their next nine films together.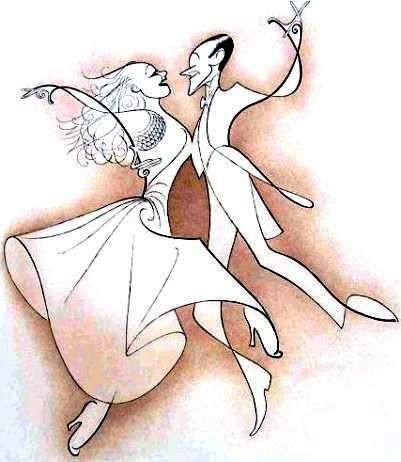 The 10 Musicals:
After their debut to the world, we all wished that we could see them dance together again... and that wish did come true. In 1934, Fred Astaire and Ginger Rogers reunited on the screen only as main characters. Their second film was "The Gay Divorcee". This one was directed by Mark Sandrich, which Ginger did not do well with really.The next year they did the film "Roberta". This one was directed by William A. Seiter and had another major star, Irene Dunne in it. In 1935, they made "Top Hat" which was the most popular Fred and Ginger movie. During Top Hat, the feather dress episode was a big problem. Ginger wanted a dress the color of blue and with ostrich feathers. The dress department designed the clothing and when everyone else saw it, Mark Sandrich started to make a big deal. She then called her mother to come. After Lela came, Mark was telling her to tell Ginger to wear the dress from The Continental from "The Gay Divorcee". Lela told Mark that Ginger would leave if she didn't wear the dress. Well what happened? Mark let Ginger get her way and the next day Fred sent her a feather charm for her bracelet.
After this incident, Ginger could never really open up to Mark Sandrich and felt he always liked to worship Fred. After Top hat, in 1936, they starred in "Follow the Fleet", and Mark was the director again. The year 1936, Fred and Ginger also did Swing Time which was directed by George Stevens. Ginger felt better when she was around George than Mark.(She had a brief relationship with George in the late thirties.) The next musical in 1937 was "Shall we Dance" and Ginger had to go back to Mark Sandrich. And in 1938, they both made a cute comedy/musical called "Carefree". By this time, it was the last film that she had to be with Mark(And was very happy about it!). The year 1939 was "supposedly" the last Fred and Ginger film called "The Story of Vernon and Irene Castle". This was directed by H. C. Potter, but Ginger had another person to compete with, Irene Castle. Irene would just complain about every little thing of Ginger. Soon though, Irene left the set because she had other business to deal with. Ten years later, the next film was "The Barkleys of Broadway". This was supposed to have Judy Garland in it and Fred Astaire, but Judy became ill and they decided to get Ginger in her place. The Barkleys of Broadway was the very last film of the two and ended the cycle.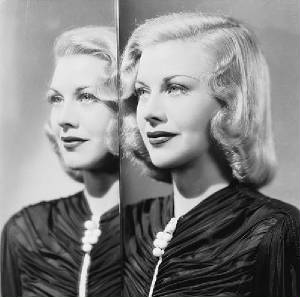 Popularity:
Back in the mid-thirties, Ginger Rogers became popular and known of. In 1935, she did a musical called "In Person" and a mystery movie called "Star of Midnight". She didn't do films without Fred until 1937, Ginger did "Stage Door". Then between 1938-1939, she made more films including the cute comedy with James Stewart called "Vivacious Lady" which is my #1 favorite movie of hers.
Towards the late 1930's, Ginger was getting a bit tired of musicals and wanted some more dramatic roles than the ones she had been doing. In 1940, Ginger dyed her hair back to dark. She kept this a secret until the movie "Primrose Path" was released and the audience was very shocked to see this change. After that, Ginger starred along with Ronald Colman in "Lucky Partners" which is a very good film. By now, she was one of the highest-paid actresses, but her next film was one of her wishes... and got Ginger an Academy Award from it.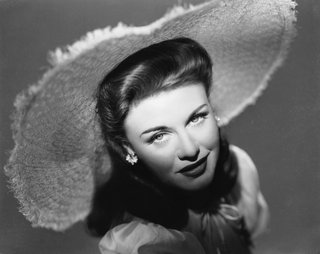 Kitty Foyle:
In 1940, RKO sent Ginger a book copy of Kitty Foyle. Once when she started looking through, Ginger thought some parts were very explicit and disturbing love scenes and she started hating the book and thought this could never pass the censor board. The next day David Hempstead who sent the book asked her how it was. Ginger explained about her opinion and David told her that their rewriting the whole script. Once when Ginger got the new script, she read through it. Why, she liked it so much she wanted to start right away. And after finishing Lucky Partners, Ginger went away filming Kitty Foyle.
After filming Kitty Foyle, Ginger started a good movie called "Tom, Dick, and Harry". The director was Garson Kanin. On the set of this film, actor Burgess Meredith, started giving gifts as jokes. First it was candy woo, then flower woo, pearl woo, then fur woo, and soon she thought it was going to be diamond woo, but instead it was car woo. After this, no one wooed anymore. And while on the early production of the movie, the Academy Awards were about to happen and Kitty Foyle was one of the nominees for best actress. Finally, Ginger Rogers got her Academy Award and was very proud of it!
1940's:

By now, Ginger Rogers was at the highest peak of her career. In 1942 she did "The Major and the Minor" which she considered one of her favorite films that she made. Then after that she starred in "Roxie Hart". Most people say this film was really good, but in my opinion, it's not that great. After Roxie Hart, Ginger did a movie with Cary Grant "Once Upon a Honeymoon". Then a year later she had her hair dyed back to blonde and starred in "Lady in the Dark" which was a musical type movie.

The same year, Ginger starred in the movie "Tender Comrade". But this film she said it had a communist turn to it. And she complained to the front office about it, but the producer gave the dialogue to the other actors. After Tender Comrade she did other films including one of my favorites "It had to be You". And then in 1949, she was reunited again with Fred in The Barkleys of Broadway for the last time in a film.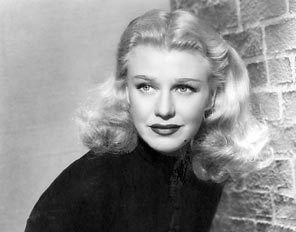 1950's & 60's:
Throughout the 50's, Ginger Rogers's popularity kind of declined. The films she was making were starting to be frail. In 1950, she made "Perfect Strangers", then the next year was "Storm Warning" and "The Groom Wore Spurs". In 1952, she made a really cute and funny film called "Monkey Business" with Cary Grant. In the next few years she made more films, but in the late 1950's, she started going back to the live theater.
In the year 1965 she made her last film "Harlow" and decided to quit making films because the way Hollywood was going towards. And in 1965 she made one other broadway musical hits, "Hello, Dolly!" then in 1969 she did another successful one called "Mame".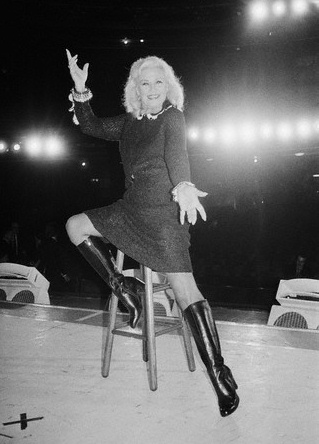 1970's & 80's:
In the 1970's, Ginger continued working on plays and a Ginger Rogers show which aired through 1975-1979. From the 60's till the late 70's she was a fashion consultant for J. C. Penney. In 1984, Ginger directed her first stage musical called "Babes in Arms" and starred in her last stage appearance "Charley's Aunt". After this she finally retired and in the late 80's, Ginger started to work on her Autobiography.